Concrete nails - one of the most common types of nails used by both professionals and amateurs. Concrete nails are widely used to connect the wooden elements and structures, as well as fixing them soft materials. The structure of the nail has a circular section and a flat or conical head. Roughness before the cap significantly improves the reliability of the connection.
All this type nails are divided into the following types: electro-galvanized, hot-dip galvanized nails, as well as acid-resistant, stainless steel nails.
If the nail should be left inside the structure, it is best to use nails from hot galvanized steel. Black nails intended for temporary attachment rust appears on them even after contact with air. For the interior, you can use electro-galvanized nails or black nails. acid-resistant required for particularly difficult places. Copper nails have a decorative hat used in the decoration.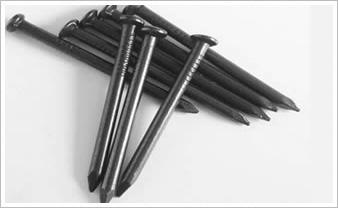 black concrete nails with groove shanks Blackened Concrete Nail with plain shank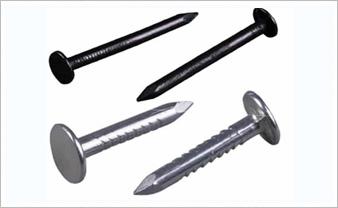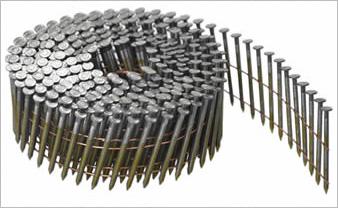 Two hot galvanized and two black concrete nails with large flat head Coil nails allow you to quickly and accurately finish work
Features:
It is harder with excellent fixing strength.
Excellent anti-bending, anti-crack and safety.
With various special nail heads (headless, round flat head or square head) and shank types (smooth shank, ring shank, twisted shank, twilled shank).
It is used in construction and other industry fields.
Specification:
Material: low carbon steel wire, stainless steel wire, copper or brass wire.
Finished: polished, electro or hot dipped galvanizing, acid-resistant, black, color, copper plated or brass plated
Size: diameter from 1.2mm to 8.0mm, length 16mm to 350mm.
General nails schematic diagram and sizes as below:
Concrete nails

Nail diameter

Head Diameter

Head height

Length

1.2

2d

0.6d

20; 25

1.4

2d

0.6d

25; 32; 40

1.6

2d

0.6d

25; 40

1.8

3.5d

0.6d

32; 40; 50; 60

2.0; (2.2)

4d

0.6d

40; 50 (45; 60)

2.5; (2.7; 2.8)

5d

0.6d

50; 60 (40; 55; 70)

3.0; (3.1)

6d

0.6d

70; 80 (40; 50; 55; 60)

3.5; (3.8)

7d

0.6d

90 (70; 80)

4.0; (4.2; 4.5)

7.5d

0.6d

100; 120 (90; 110)

5.0

9d

0.6d

120; 150 (110)

6.0

11d

0.6d

150; 200
nails packing:
20-25kg per carton or wooden box in bulk .
75 or 100 pieces/box then cartons.
400 gram/box, 50boxes/paper carton.
500gram/box 40boxes/paper carton.
1kg/box,25box/carton.
A few tips that may help you:
If you do not want to leave the hammer dents on the surface of the part, use a countersink bit .
In the clean surface nail heads should be recessed and filled.
Nail thickness of 5mm or more, may split the board. Therefore, when driving with thick nails need to do pre-drilling. Pre-drilling is necessary to do and when nailing into hard wood, or a nail can bend.
Nail hammered along the fibers, holds much less than a nail hammered across them .
Nails hammered at an angle, make the joint parts more durable.
Galvanized concrete nails
Galvanized concrete nails are designed for outdoor installation of wooden elements, since they are less prone to corrosion due to galvanic zinc coating. May also be used for interior and finishing work.
Galvanized concrete nails diameter from 1.2mm to 6.1mm, length from 16mm to 200mm.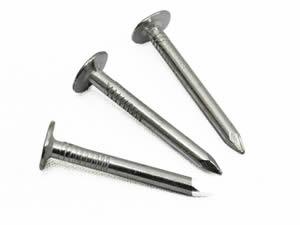 Black concrete nails
Black concrete nails are designed for fastening wooden parts are not exposed to moisture such as internal structure - floors. They can also be used for applications where appearance is important not the finished product. Due to the lack of galvanizing , these nails are easily prone to corrosion.
Nail diameter from 1.2mm to 8.8mm, length 16mm to 310mm, standard sizes 150mm, and rare 200 and 300mm.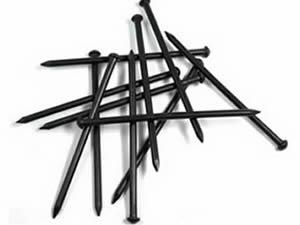 A bunch of black nails for construction use
Stainless steel concrete nails
Stainless steel concrete nails with extra grip are ideal used in roofing applications for connecting oak and cedar timber. Our company offers a full range stainless steel nails in annular ring, round head, lost head, and clout nails. They are always kept very good stock.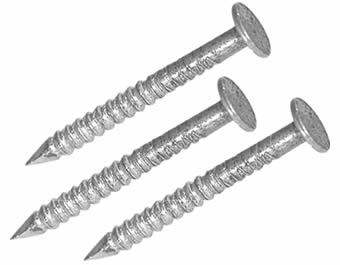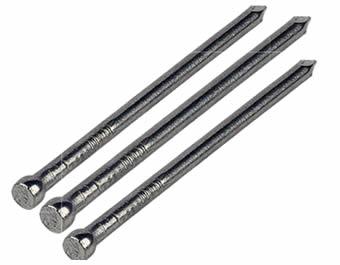 Stainless steel annular ring nails Stainless steel lost head nails